Largest Donation Of Hair

Pilgrims to the Tirupati temple in Andhra Pradesh, India, donate a tonsure of their hair as a gift. Every year an estimated 6.5 million people make donations of their hair, and more than US$2.2 million is raised through its annual auction.
Highest-Paid Prime Minister

The Japanese prime minister, Yoshiro Mori, has an annual salary of 69,290,000 yen (US$676,000) including monthly allowances and bonuses.
Largest Paper Money
The biggest paper money ever made was the one-guan note, which was issued between 1368 and 1399 in the Chinese Ming Dynasty. the note measured 9 x 13 - bigger than a sheet of letter paper
Largest Family Fortune
The Oeri, Hoffman, and Sacher families pf Switherland. who jointly own Roche pharmaceuticals, have an estimated combined net worth of $11.5 billion
Largest Single Private Charitable Donation
Bill Gates, founder of Microsoft, and his wife Melinda donated $6 billion (£4.2 billion) to their charitable foundation, the Bill and Melinda Gates Foundation, in August 1999.



As a child, Gates was skinny, shy, and awkward, and when he was at college he had to be dragged out to parties. He dropped out of college in his junior year is now the most powerful businessman in the world – and arguably the most generous charity donor around.
Larger Robbery by a Mugger
A mugger made off with treasury bills and certificates of deposit worth $435 million after attacking a broker's messenger in London on May 2 1990. But news of the theft spread to every major bank in the country , and none of them would accept the bills
Largest Dowry
In 1929 Bolivian tin millionaire Don Simo Iturbi Patio gave his daughter Elena Patio of $22.48 million- equal in 200 of $400 million. However, this did not make a major dent in his fortune of $606 million- the equivalent og$7,000 million in 2000
Most Expensive Credit Card
The American Express Centurion credit card, also known as the "Black Card" has an annual fee of $1000 and is the only open to those with a minimum salary of $215,000. The card has no spending limits and is offered by invitation only to selected individuals
Largest Return of Cash
In May 1994 Howard Jenkins [USA] discovered that an accidental transfer has credited his bank account with and extra $88 million. the 31-year-old employee of a roofing company withdrew $4million for a shopping spree, but his conscience got the better of him and he returned the millions in full.
Largest Cash Prize Won On TV

Ian Woodley won £1 million ($1,618,000) after answering four questions correctly on Channel 4's TFI Friday quiz held on December 24, 1999.
Largest Cash Bequest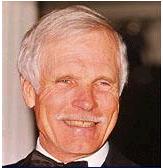 For CNN big cheese Ted Turner, $1 billion isn't a lot of money to give away. "It's a good round number," he said. Turner himself wasn't that impressed with his own efforts saying, "When I got my statement in January, I was worth $2.2 billion. Then I got another statement in August that said I was worth $3.2 billion. So I figure it's only nine months' earnings, who cares?"