Most Valuable Painting

Vincent van Gogh was born on March 30, 1853 in Holland, and after leaving school at age 15, he was offered an apprenticeship at an art dealership. In 1873 he moved to London and spent hours wandering around art galleries. He briefly worked as a schoolteacher in England, before studying religion at Amsterdam University in 1877. He became a missionary in Belgium and started painting the oppressed miners with whom he worked. From 1880 he pursued his love of art before committing himself to an asylum in 1889. He shot himself on July 27, 1890, aged 37, but when he didn't kill himself, he tried again two days later and succeeded.

Most Valuable Gun
An 1873 .45 caliber Colt single action army revolver, Serial No. 1, was sold at Christies, new York City for a record breaking $242,000 on May 14, 1987. this is equivalent to $370,000 in the year 2000
Most Expensive Wine
The most expensive commercially available wine is the Chateau d'Yquerm Sauternes [1787], prices between $56,000 and $64,000 depending on the retailer. Chateau d'Yquerm Sauternes is a golden-colored dessert wine from France's Bordeaux region.
Most Valuable Clock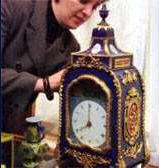 A record-breaking sum of £1,926,500 ($3,001,294) was paid for a Louis XVI ormulu-mounted, ebony grande sonnerie Astronomical Perpetual Calendar Regulateur de Parquet, at Christie's, London, on July 8, 1999. The intricately designed ebony longcase clock indicates seconds, minutes, hours, sunrise and sunset, the age of the moon, the date, the position of the sun in the zodiac, a rolling moonphase, the day of the week, and has a complex movement striking the quarter hour and the hour.

Most Expensive Single Purchase of Whisky
On Nov 16 2000 Norman Shelley [UK] paid $341,154 for 76 bottles of the Macallan malt whisky. The oldest whisky of the collection dated from 1856. the Macallan single-malt whisky has been made in Scotland since 1824.
Most Expensive Fungus
White truffle [ Tuber magnum pico] is the world's most expensive edible fungus, fetching up to $1,500 per lb. they can only be found in the Italians regions of Piedmont, Emilia-Romagna, Tuscany, and Marches.
Most Valuable Watch

A Patek Phillipe watch that belonged to Henry Graves, Jr. became the most expensive timepiece ever sold when it fetched $11,002,500 on December 2, 1999 at a Sotheby's auction in New York City, USA. The Supercomplication gold watch weighs 0.7 kg (1.5 lb) and has 2 faces, 9 dials, 18 pointers, and displays 24 types of information, including a rotating picture of the stars and phases of the moon over New York City, USA on any given night. As the name suggests, the watch was considered to be the most complicated in the world until the launch in 1989 of another Patek Philippe, the one-off Calibre 89 that celebrated the 150th anniversary of the company.

Most Expensive Glass of Wine
the most paid for a glass of wine is $1,382.80 for the first glass of 1993 Beaujolias Noaveau. The wine was released in Beaune in the wine region of Burgandy,France. Is was brought by Robert Denby in an auction at Pickwick's, a British pub in Beaune, on Nov 18 1993.
Most Expensive Washroom

For a few fortunate bathroom goers, jeweler Lam Sai-wing has made taking a tinkle a tad more exciting by building a golden washroom costing HK$27 million (£2.4 million, US$3.5 million) – the most expensive in the world. Inspired by the words of Lenin, who in 1921 said toilets of gold should be built to remind people of the waste of capital warfare, Lam Sai-wing took it upon himself to construct the toilet out of 24-carat gold, and decorate the ceiling with ruby, sapphire, emerald and amber.