Longest Reign
Minhti, King of Arakan, which is not part of Myanmar [Burma], is reputed to have reigned for 95 years between 1279 and 1374. However the longest well documented reign of a monarch is that of Phiops II, an Egyptian Sixth-Dynasty pharaoh. His reign began in c.2281 bc when he was six years old, and lasted about 94 years.
Youngest Current Queen
The youngest queen is HM Queen Rania Al-Abdullah of Jordan [b. Aug 31 1970]. She is married to the head of state, Kind Abdullah Bin Al-Hussein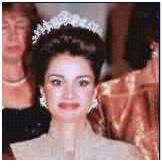 Most Accessible Prime Minister
Danish premier Poul Nyrup Rasmussien, whose home telephone number is available to the public, is know to answer the telephone queries from Danish citizens personally.
Longest-Serving Female Prime Minister
Sirimavo Bandaranaike was Prime Minister of Sri Lanka for a total of 17 years 208 days - from July21 19 60 to March 25 19 65; from May 29 1970 to July 22 1977; and then again from Nov 12 1994 to Aug 10 2000.
Youngest Prime Minister
Swiss-born Dr. Mario Frick [b. May 8 1965 ]., became Prime Minister of Liechtenstein at the age of 28 on Dec 15 1993.