Highest Ever Annual Earnings For A TV Actor


Jerry Seinfeld earned an estimated $267 million in 1998 according to the 1999 Forbes Celebrity 100 list, the highest annual earnings ever by a television or film actor. His show Seinfeld hit TV screens in 1990. Within three years, it became a huge hit around the world and by 1997 Seinfeld was the highest paid actor with $1,000,000 per episode. The show ended its successful run in May 1998, with the largest viewing audience for a comedy - 108 million.

Most Popular TV Game Show


The game show Wheel of Fortune is currently seen in 204 US television markets as well as in 54 overseas markets, with an estimated 100 million viewers a week. Created by Merv Griffin, the show first aired in the US on January 6, 1975 and made its syndication debut in 1983, with the 3,000th nationally syndicated episode aired during the 1998-9 season. Since its 1983 syndication launch, the American show has awarded over $112 million in cash and prizes, averaging in excess of $7 million per year.
Highest Annual Earnings - TV Writer

Larry David, co-writer and co-creator of the hit US comedy Seinfeld, earned an estimated $242 million in 1998. David was second in the 1999 Forbes Celebrity List only to the show's star, despite leaving the series in 1996. He returned to pen the finale in 1998.

David E. Kelley, creator of Ally McBeal and The Practice, is currently the highest earning active TV writer, earning $118 million (£73 million) in 1999 according to the 2000 Forbes Celebrity 100 list.
Most Successful TV Soap

The American TV series, Dallas, began quietly in 1978, with just five episodes. By 1980, it was watched by an estimated 83-million Americans, giving it a then record 76% share of the television audience. It was screened in more than 90 countries, often in locally dubbed versions.
Longest-Running TV Show

NBC's Meet the Press, which was first transmitted on November 6, 1947 and subsequently shown weekly from September 12, 1948, has had 2,649 shows aired as of February 4, 2001. Originated by Lawrence E Spivak, who appeared on each show as either moderator or panel member until 1975, the show has the distinction of having every US President since Kennedy appearing on the program during his career. Bob Dole holds the record for the most appearances on the show, with 56 - in a career that ranged from congressman, senator, Republican National Committee chairman, vice presidential candidate and finally, presidential nominee.

Highest Earning Film Producer

Hollywood producer/director George Lucas topped the 2001 Forbes Celebrity 100 list, having earned over US$250 million in 2000 following the release of Star Wars: Episode 1 - The Phantom Menace (USA 1999) on video.
Highest Annual Earning TV Actresses

Married to fellow screen idol Brad Pitt, Jennifer Aniston was a waitress before winning her role on Friends. When Courteney Cox is not hanging with her hubby, Scream co-star David Arquette, she loves redecorating homes. Before Friends, she tried her luck with modeling, but standing at 5.5 ft tall, her height proved to be a hindrance. Lisa Kudrow is nothing like the ditzy blonde Phoebs, in fact she has a Bachelor of Science degree in Biology! She's left handed and played Varsity level tennis in high school and college. She's also a pool shark.
Most Expensive TV Program

In January 1998, Warner Brothers, the makers of the hospital drama ER, America's number-one prime time show with a then-weekly audience of 33 million, agreed to a three-year deal with NBC of $857.6 million (£536 million) for 22 episodes – $13.1 million (£8.2 million) per one hour episode.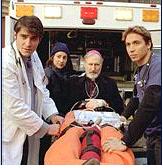 Michael Crichton, the executive producer of ER wouldn't have earned such big bucks if he'd become a doctor as originally planned. After graduating from Harvard medical school, he realized he preferred a pen and paper to a scalpel. He now produces ER and also writes best selling novels such as Jurassic Park and Disclosure, which have been made into movies.

Highest Grossing Movie Adapted From TV

Mission: Impossible II (US 2000), directed by John Woo and starring Tom Cruise, was released on May 24, 2000, and has taken a total box office gross of $524.1 million.