Balancing On One Foot
The longest recorded duration for balancing on one foot is 76 hr, 40 min by Arulanantham Suresh Joachim at Uihara Maha Devi Park Open Air Stadium, Sri Lanka, from May 22–25, 1997. Suresh is a multiple record-holder. He holds other records for the longest-time standing still and distance brick carrying.



Furthest Plane Pull By An Individual
David Huxley pulled a Boeing 747-400, weighing 187 tonnes (184 tons), a distance of 91 m (298.5 ft) in 1 minute and 27.7 seconds on October 15, 1997 at Sydney, Australia. David has now retired from the strongman circuit. He currently owns and runs an event management and public relations company called Tartan Warriors, based in Sydney, Australia.



Heaviest Car Balanced On Head
England's John Evans balanced a 159.6 kg (352 lb) Mini on his head for 33 seconds at The London Studios, England, on May 24, 1999.

Most Back-Hand Push Ups In One Hour
Britain's Paddy Doyle completed 1,303 push ups on the backs of his hands in one hour. The record, broken on March 21, 2001, at the aptly named Staminas Boxing Martial Arts Centre, Erdington, Birmingham, UK, beats Paddy's previous world record of 660 push ups.

Record breaking is a way of life for Paddy Doyle. The muscle-bound hard man has taken a total of 102 regional, national, European, and world fitness records, including speed marching, brick carrying, and surviving the most accumulative rounds in a boxing ring!
A mixture of strength and stamina from three hours a day of sports training and martial arts gave Paddy what he needed – colossal power to keep pumping for 60 minutes, and the flexibility to push-up while his wrists were twisted backwards.
'The last 15 minutes were hard going,' admits Paddy, whose hands were in such good shape afterwards he managed to hold a celebratory glass of champagne.


Farthest Team Truck Pulling In One Hour
A team of 20 Atlas Power Gym strongmen pulled a semi-trailer truck weighing 16610 kg (36,620 lb) a record 5.52 km (3.43 miles) at Kenosha Municipal Airport, Wisconsin, USA, on September 30, 2001.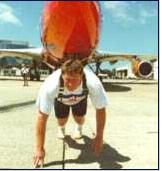 Heaviest Bed Of Nails
Lee Graber of Tallmadge, Ohio, USA, endured the weight of the heaviest bed of nails on his body. He was sandwiched between two beds of nails, with a weight of 752.5 kg (1,659 lb) placed on top for a total of 10 seconds on June 24, 2000. The weight was loaded on top of him using a crane. The most difficult aspect was controlling his breathing as he had a lot of weight on his chest and he needed to relax to avoid bursting a blood vessel in his head.

Human Speed Bump
Tom Owen, of Birmingham, Alabama, USA, was run over by seven consecutive trucks (six pick-up trucks and a box van) with a combined weight of approximately 5,443 kg (12,000 lb) on August 20, 1999, in Palm Dale, California, USA. Tom estimates he's been run over more than a thousand times. He keeps in shape for the stunt with the help of a strongman buddy who stands on Tom's stomach, holding weights as heavy as 453 kg (1,000 lb). Our human speed bump then puts his strapping six-pack into action and pushes his pal up and down!

Most Push-Ups In One Hour
The most push-ups completed in one hour is 3,416 by Canadian Roy Berger at the Central Canada Exhibition, Ottawa, Canada on August 30, 1998. Roy dedicated the record to his younger brother, Lee, who was tragically killed while stationed as a Canadian peacekeeper with the UN Protection Forces.


Fastest Coconut Tree Climb
Athletic Fuatai Solo broke the tree-climbing record at the annual Coconut Tree Climbing Competition in Sukuna Park, Fiji. He was so pleased with his win - the third in succession - that he climbed the tree again, clutching the prize money of $100 in his mouth.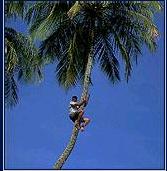 Heaviest Train Pulled
It can be a strain taking the train, but we're not talking about overcrowded carriages. Strongman Juraj Barbaric had to pull out all the stops to drag 20 freight cars filled with scrap iron down the track. He hauled the weighty wagons then promptly collapsed in an exhausted heap! He pulled the 1,000-tonne (984.2-ton) train a distance of 4.5 m (14 ft 9 in) along a railway track at Kosice, Slovakia on June 1, 1999. It was the heaviest train pulled!

Longest Duration Aircraft Restraint
Using ropes looped around his arms, Finland's Ilkka Nummisto prevented the take-off of two Cessna airplanes pulling in opposite directions for 54 seconds at Räyskälä Airport, Finland on August 1, 2001.

Most Boards Broken By Hand In One Hour
The most boards broken in one hour is 2,897 by the USA's Greg Ryman at Prairie Life Health and Fitness, Des Moines, Iowa, USA on March 16, 2002.

Most Telephone Directories Torn In Three Minutes
To celebrate his 67th birthday, America's Edward Charon ripped 19 telephone directories, each with 1,110 pages in a time of three minutes at Branson Mall, Branson, Missouri on April 9, 2002. Charon wore leather gloves to protect his hands and a weightlifting belt to support his back during the record attempt. The book-busting record-breaker set each book on his knee before methodically ripping it into two with his huge hands. "I use a forward then a downward motion. Some people break the binding and then tear the side of the book, but I tell them that's the girls' way of doing it," says the former minister.
E.J. collects most of his directories from local motels. He says he has another 16 truckloads of books still waiting to be ripped.


Fastest Female Run Up The Empire State Building
In the annual run up the 1,576 steps of the Empire State Building, the fastest woman has been Belinda Soszyn (Australia) in 1996, with a time of 12 minutes 19 seconds. Belinda Soszyn, a school teacher from Hurstville, New South Wales, was 42 years old when she set the record. Belinda is three-time champion of the Empire State Building run-up.

Head Board Breaking
The most 2.5-cm. (1-in.) thick pine boards broken across the forehead in 30 seconds is 31, by Kevin Shelley of Richmond, Indiana, USA, on the set of Guinness World Records: Primetime in Hollywood, California, USA, on August 16, 1999.

Heaviest Weight Lifted With The Ear
The heaviest weight lifted by the ear is 50 kg (110.1 lb). On December 17, 1998, Li Jian Hua of Jiangshan, China, lifted a column of bricks hanging from a clamp attached to one of his ears. Preparation is everything, and martial arts expert Li Jian Hua took no chances, carefully stacking the pile of bricks onto a metal casing. Then he effortlessly tipped his head up, lifting the bricks clear of the ground for 9.3 seconds.

Most Beer Kegs Balanced On Head
England's John Evans balanced 11 empty beer kegs on his head for the required 10 seconds on Guinness World Records: Primetime, on June 17, 1998.

Most Boards Broken By Hand In One Hour
The most boards broken in one hour is 2,897 by the USA's Greg Ryman at Prairie Life Health and Fitness, Des Moines, Iowa, USA on March 16, 2002.

Most Cars Lifted In One Hour
The greatest number of times the rear of a car has been lifted clear of the ground (i.e. the rear wheels are not touching the ground) in one hour is 580 by Mark Anglesea, in Rotherham, UK on October 3, 1998. Passers-by thought it was a bizarre auto theft attempt, but they soon discovered that car lifter Mark was, in fact breaking a record. He began at 1 pm, hoping to raise the car 300 times over the next hour. Grabbing two pieces of specially-attached pipe, he lifted the 295 kg (650 lb) weight from the ground, and continued to do so every six seconds!