Bowling Ball Stacking

The most bowling balls stacked vertically without the aid of adhesives is 10, by David Kremer of Waukesha, Wisconsin, USA, on the set of Guinness World Records: Primetime, Los Angeles, on November 19, 1998. David is the executive director of a Roman Catholic order of brothers and priests.


Golf Ball Stacking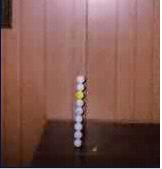 Don Athey of Bridgeport, Ohio, USA, stacked nine golf balls vertically, without the use of adhesives, on October 4, 1998.

Most Scorpions Eaten
The most live scorpions eaten by a human being is approximately 35,000. Each day, the field worker, Rene Alvarenga (a.k.a. el comealacrances - "scorpion eater"), from Intipuka, El Salvador, catches 20-30 of the creatures and eats them.


World's Biggest Liar
John Graham, from Filloth, Cumbria, England, is the World's Biggest Liar. For the title, contestants must tell tall tales for several minutes at the annual lying competition, held at Santon Bridge, Cumbria, UK. John Graham has won five times. As the title holder, John has been invited to entertain people all over the country and is a local star. The only problem about being the World's Biggest Liar is that even when he is being truthful no-one believes a word he says!


Farthest Human Cannonball Flight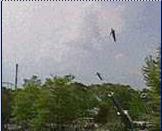 The record distance for a human fired from a cannon is 56.54 m (185 ft 10 in), by David "Cannonball" Smith Sr. This human cannonball feat occurred on May 29, 1998, at Kennywood Park, West Mifflin, Pennsylvania, USA. It is estimated David was traveling at over 112 km/h (70 mph) during the flight! Despite all the airtime in his chosen profession, there is not a part of performing that David doesn't enjoy. "I am able to do something that is entertaining for people," he says, "I truly enjoy people!" He has eight children and five of them are human cannonballs! "The others are still too young!" he laughs. Continuing in their father's sky-high tradition is obviously in their blood!


Longest And Highest Blindfold Skywalk
The longest and highest blindfold skywalk was performed by Jay Cochrane, between the two towers of the Flamingo Hilton, Las Vegas, Nevada, USA, at a height of 30 stories, and a length of 183.48 m (600 ft), on November 11, 1998.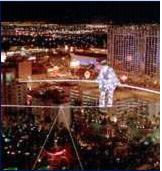 Farthest Spaghetti Nasal Ejection

Kevin Cole of Carlsbad, New Mexico, USA, holds the record for the longest spaghetti strand blown out of a nostril in a single blow. On December 16, 1998, Kevin successfully achieved a record distance of 19 cm (7.5 in) on the set of Guinness World Records: Primetime in Los Angeles, California, USA. Kevin first started practicing his nasal ejection with Ramon noodles and then progressed onto spaghetti. He has the ability to blow one end of the spaghetti out of one nostril, and the other end out of the other nostril for a "nasal floss" effect.

Most Bees In Mouth
Dr. Norman Gary held 109 honeybees in his closed mouth for the required 10 seconds, on October 20, 1998, in Los Angeles, California, USA.

Most Cockroaches Eaten
Ken Edwards of Glossop, Derbyshire, England ate 36 cockroaches in one minute on the set of The Big Breakfast, London, England on 5 March 2001.

Ken is a retired ratcatcher and part-time entertainer who first took to the stage at age 18, but his talent for carrying out bizarre stage acts was unveiled on the British TV show Over The Top when he was 39. Ken's 47 rats-down-the-trouser trick caused such a stir that he became a celebrity overnight! His friends and family are now used to his freaky acts and Ken says, "If I were to actually do something normal then they would react!"
Fastest Beer Bottle Opening

The fastest time for opening 300 bottles of beer, by a team of three, is 1 min 47 sec, on the set of Guinness - Die Show Der Rekorde. The team was led by Alois Unertl, of the Unertl Brewery, in Munich, Germany, on April 2, 1999. In relay style, each team member opened 100 bottles and when finished, passed the specially constructed opener for the next team member to begin more bottle-opening.


Most Clothespins Cipped On Face
The UK's Garry Turner clipped 133 ordinary wooden clothes pegs on his face at the offices of Guinness World Records, London, on August 3, 2001. Garry is the landlord of the Red Lion pub in Caistor, Norfolk.


Most Worms Charmed
Tom Shufflebotham charmed 511 worms out of the ground at the first World Worm Charming Championship, held in Willaston, Cheshire, England, on July 5, 1980. Competitors are allowed 30 minutes to "charm" as many worms as possible. Charmers can use garden forks and other implements to help coax up the worms, but sprinkling water on the ground is not allowed.